Sullivan on Comp is the most definitive work available on California workers' compensation. I cannot say enough about how much people in our firm love the books and how often they consult them. "Sullivan on Comp" is the first place I turn to research a case. Congratulations, Mike, you've really nailed it — an impressive work and required reading in anyone's WC library.

This treatise is the most up-to-date and thorough resource out there for new attorneys and seasoned veterans alike. The information is concise, meaningful and easy to follow. I cannot imagine a practitioner in the field of workers' compensation not having a copy of this book.

Sullivan on Comp is a highly readable treatise that is comprehensive and detailed.

Sullivan on Comp is an invaluable resource that should be part of any workers' compensation practitioner's library..

Sullivan on Comp is a valuable analysis of California's worker's compensation system. It provides enough depth to satisfy the needs of front-line practitioners, but is accessible to a company's general counsel, risk manager or human resources professional. It communicates a clear understanding of the statutes and regulations, as well as the related case law. I keep a copy close by.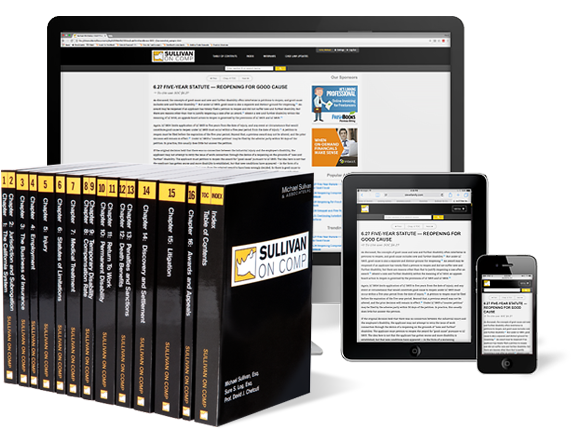 Sullivan on Comp is the definitive resource for workers' compensation professionals.
Sullivan on Comp is the most comprehensive California workers' compensation law research platform and educational resource available.
The treatise is written for attorneys, claims adjusters and employers, with subscribers ranging from sole proprietors to Fortune 500 companies. It is continuously updated to reflect the latest changes to California workers' compensation law and is offered in print or via web and mobile access.
Sullivan on Comp has a well-deserved reputation as the most extensive reference tool available regarding California workers' compensation law. Stay continually informed of the latest updates to this ever-changing area of law.
See what's covered...
Chapter 1: California System
Chapter 2: Jurisdiction and Subrogation
Chapter 3: Business of Insurance
Chapter 4: Employment
Chapter 5: Injury
Chapter 6: Statutes of Limitations
Chapter 7: Medical Treatment
Chapter 8: Compensation Rate
Chapter 9: Temporary Disability
Chapter 10: Permanent Disability
Chapter 11: Return To Work
Chapter 12: Death Benefits
Chapter 13: Penalties and Sanctions
Chapter 14: Discovery and Settlement
Chapter 15: Litigation
Chapter 16: Awards and Appeals
Your subscription includes...
Workers Comp Calculators
Subscribers to Sullivan on Comp have access to a complete suite of workers' comp calculators, including Permanent Disability, Present Value, Commutations, and over a dozen more.
Webinars
Sullivan on Comp webinars offer insightful and instructive training by attorneys and industry leaders with deep expertise in the workers' compensation field. Subscribers have access to over 85 webinars available on-demand as a part of their subscription. Webinars qualify for MCLE and CE credit. Enjoy a new webinar every month!
Sullivan on Comp App
The Sullivan on Comp App offers online access to all services, such as webinars, calculators, case law updates, and the treatise itself, accessible from any mobile device or desktop computer.