Join us for the live SOC Webinar 2nd Quarter Update - 2017
Apportionment to Genetic Factors and Immutable Characteristics: The Rice Case and its Implications
Part 1: Psychiatric Claims
Author of Sullivan on Comp and workers' compensation attorney Michael Sullivan, together with defense attorney Jake Jacobsmeyer of Shaw Jacobsmeyer Crain & Claffey, applicants' attorney Julius Young of Boxer Gerson LLP and Kieran Sullivan, Ph.D Psychology Professor at Santa Clara University, will discuss the case City of Jackson v. WCAB (Rice) and its implications.
This case found that apportionment to genetic factors is appropriate under the law. In this Part 1 of the webinar, the discussion will focus first on the case and its implications, then on key psychiatric studies that could potentially be brought to bear in this context.
(This presentation will focus on psychiatric injuries; a subsequent webinar (to be scheduled shortly) will focus on orthopedic and internal claims.)
Subscribers of Sullivan on Comp can click here to register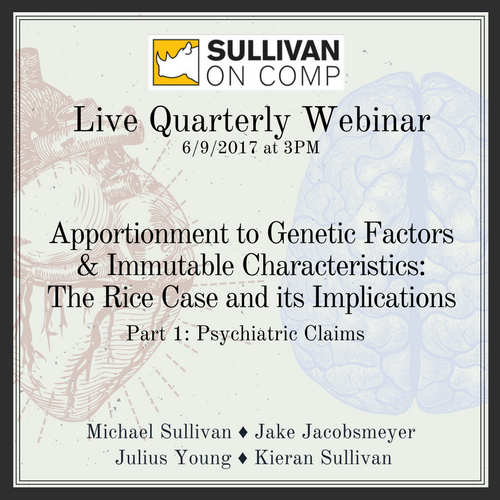 ABOUT THE SOC WEBINAR SERIES:
The Sullivan on Comp Webinar Series is comprised of:
12 monthly case law update webinars
4 quarterly webinars, each focusing on specific topics
Webinar attendance earns CE credits for attorneys, WC adjusters and WC bill reviewers. Monthly webinars are .5 hours of credit each; quarterly are 1.5 each. (Occasionally, additional webinars are also presented following significant changes in the industry.)

These webinars are an included benefit of subscribing to Sullivan on Comp online and are not available any other way.
Subscribe to Sullivan on Comp and gain access to the SOC Webinar Series via the online only or full subscription options.